How presidential elections are impacted by a 100 million year old coastline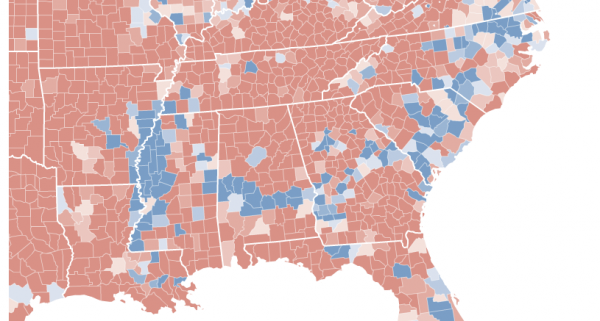 In June, I wrote at Deep-Sea News how an ancient coastline through the south is reflected today in the voting patterns through a linkage of plankton, soil, cotton, slavery, and demography. A little teaser:
Hale County in west central Alabama and Bamberg County in southern South Carolina are 450 miles apart.  Both counties have a population of 16,000 of which around 60% are African American.  The median households and per capita incomes are well below their respective state's median, in Hale nearly $10,000 less.  Both were named after confederate officers–Stephen Fowler Hale and Francis Marion Bamberg.  And although Hale's county seat is the self-proclaimed Catfish Capitol, pulling catfish out of the Edisto River in Bamberg County is a favorite past time.  These two counties share another unique feature. Amidst a blanket of Republican red both Hale and Bamberg voted primarily Democratic in the 2000, 2004, and again in the 2008 presidential elections.  Indeed, Hale and Bamberg belong to a belt of counties cutting through the deep south–Mississippi, Alabama, Georgia, South Carolina, and North Carolina–that have voted over 50% Democratic in recent presidential elections. Why? A 100 million year old coastline.
Robert Krulwich discusses this pattern and my story this week at his NPR blog.
These same counties went mostly blue in 2004 and 2000. Why? Well, the best answer, says marine biologist Craig McClain, may be an old one, going back before the Civil War, before 1776, before Columbus, back more than 100 million years to the days when the Deep South was under water. Those counties, as he writes here, went for Obama because trillions and trillions and trillions of teeny sun-loving creatures died there. He's talking about plankton. That's why the Republicans can't carry those counties. Blame plankton.