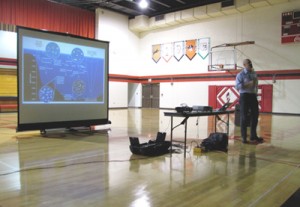 Outreach is a vital component of my overall science program. Scientific information is often interpreted to the public long after it has been discovered and often by people removed from the scientific process. I strive for an immediate sharing of science with the public through both traditional outlets and web-based dialogues that allow me to interact with the public more intimately.
Deep-Sea News (http://deepseanews.com) is a blog, I founded and now serve as its chief editor. Deep-Sea News is considered the most popular marine blog on the web (rated by Nature Blog Network) and since August 2004 our traffic has increased to over 100,000 visitors a month. Deep-Sea News has won multiple awards (EcoDardevil, Thinking Blogger Award, OpenLab 2007-2011/Best of Science Writing on the Web) for the website and enjoyed collaborating with Seed Media, Science, Nature, and National Geographic on web initiatives.  Deep-Sea News was featured content on the Discovery Channel (6/08-12/08) and Scienceblogs (1/06-6/08). My work with Deep-Sea News continues to be highlighted. "Deep Sea News casts back to the best traditions of popular science, sparking curiosity and bewonderment, explaining the phenomena in comprehensible language. It's all about communication between the expert and an interested reader, a transfer of knowledge and ideas, sharing the passion. Deep Sea News is a solid blog with wide appeal. Recommended."-Blog Critics Magazine. DSN is highlighted in the Charlotte Observer by Scott Huler: Online Science Conference Draws 250, in the NewsObserver, Columbian Journalism Review, and NPR's Where We Live: Explorers.  The most up-to-date list of coverage can be seen over at DSN.
Along with Deep-Sea News, my writing is featured at several popular media outlets. Some of my favorites are
Archangel with Aqua-Lung at American Scientist
An Empire Lacking Food at American Scientist
Scientists Take Darwin on the Road at Pacific Standard
On Sticking Your Arm Into an Underwater Cavern and Hoping a Catfish Bites You at Mental Floss
What the deep seas tell us about life on other planets at io9
The Mass Extinction of Scientists Who Study Species at Wired
How presidential elections are impacted by a 100 million year old coastline at Deep-Sea News
A Lonely Tree Far From Home Brings New Life to the Deep Sea at Deep-Sea News
Let it Snow, Let it Snow, Let it Snow at Deep-Sea News
If I Was a Hagfish Could I Get with Tall Blonds at Deep-Sea News
The Evolution of Iron-Clad Samurai Snails with Gold Feet at Deep-Sea News 
My research continues to generate considerable press including Fox News, Discovery Channel, and National Public Radio.
I also often serve as consultant to the mainstream media.
A key part of my outreach is training and providing commentary on different strategies of engaging the public.  I have developed and taught workshops on social media for scientists for engagement with the public and other scientists (Oregon State University 2012, University of Lund 2013).  I was keynote lecturer for Oceans Online 2013 and discussed how to build an effective social media outreach campaign. I have been an invited panelist for several discussions on social media outreach (Union of Concerned Scientists Science of Social Media, National Academy of Science Roundtable Discussion on the Public Interfaces of the Life Sciences, Grist's Seas the Day Forum). I also coauthored a chapter titled "Digital Environmentalism: Tools and strategies for the evolving online ecosystem" and have a forthcoming paper titled "The knowns, unknowns, and unknowables of social media outreach".
And last some interviews. Duke Research interviews me and asks 5 questions about ocean biodiversity, body size variation, blue whales, municipal water supplies, giant squids, cell membranes, giant isopods, islands, Victorian science, and of course the deep sea. Yeah I cover a lot. An interview with Bora Zivkovic on my beginnings as a marine biologist, science blogging, serving as an editor for PLoS, and open-access publishing. As a guest of Radio in Vivo, I discuss body size and biodiversity of the deep sea, ecology of seamounts, science blogging, and outreach. The podcast (mp3) can be heard online.